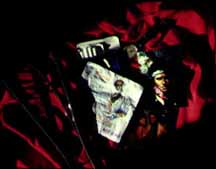 I pressed 1,000 albums on virgin audiophile vinyl-yes, vinyl. In 1985, vinyl was still king and cds were just making a small impression. The warmth of vinyl won me out and the fact that I could put the photos on a huge 12" jacket & sleeve was alot more appealing than the tiny CD jackets. I'm selling the remaining copies of WHOSE FANTASY IS THIS? for a mere$10pp - each one is numbered and, if you like, signed. If you own a turntable, this may just be the last record you'll ever buy.
Full lyrics for all the songs are included on the sleeve. There will be a cd available early next year for $10.
The music, what can I say, is very eclectic - sort of theatrical pop./rock. The women-GINGER, THERESA FROM CLUB MED, LISA'S EYES, MONICA and the others, are all real. I pour my heart out on this album- and I think it shows.