Hampshire Lodge

Jackson, N.H.

A tangle of naked branches, a confusion of feelings of impressions and ideas-After the summer is passed, we stop to evaluate. We try to make sense out of all the words, out of the summer's act of living; We take all that has happened and make it into something seperate from Hampshire Lodge. We say that the Lodge is a Beautiful, Loving Community, or that the Lodge is an Impossible Dream. We say that the Lodge forces people into maturity, or allows people to remain children. We simplify our experiences. Hampshire Lodge is no one thing; It s a complex place which takes its life from the people who live there. It would be false to attempt to sum up our shared experiences in one thought or phrase. The shattering complexity and conflict, the paradoxes; can be resolved only in the mind of each Lodger.

from the introduction of the HAMPSHIRE LOG 1967-writer unknown

HAMPSHIRE LODGE was a teen-age summer camp located in Jackson, New Hampshire in the 1960s. It was very unique in that the "kids" who went there were creative, inventive, peaceful and "unique" in their own ways. There was one building that everyone lived in-and we lived dorm style-two or three to a room. In the dining hall we sat wherever we wanted and our daily schedule always changed. This was a cultural camp-not a sports camp. We could choose from Humanites-where we discussed books like Joyces' ULYSSES or go to World Cultures or take a folk music class.
In the evenings there was usually a hoot-nanny in the main living room where almost everyone got in front of the fireplace and sang some songs.
The purpose of this page is to hope to find ex-campers of HAMPSHIRE LODGE to hopefully have a reunion in 2000.
I will keep adding to this page whatever I can as I have the LODGE CHARGES for the years I went there (which was '66 & '67). The Lodge Charge was the weekly newspaper that was filled with activities of the week, gossip-who was seeing who, this weeks songs, and other fun stuff.I also have loads of pics from those years I plan on puttin up.
Oh, I didn't introduce myself. I'm Michael Bitterman and I was the rhythm guitarist in the rock & roll band that played those years. Off hand I remember that band also had Barry Flast on keyboards, Dave Toorchen on bass, Bob Hertz on lead guitar and Nina Aurebach as our drummer.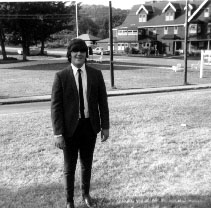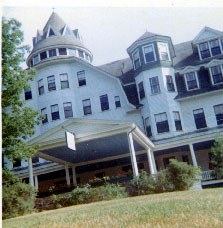 I have located the HAMPSHIRE LODGE LIST OF PEOPLE from '66 & '67. I print here only the names: As I hear from these people, I will print their email and/or web address so you can get in touch. If there are any errors, please notify asap. I have received mail from Lodgers from other years and I have included them as well on this page, so, anyone who went to Hampshire Lodge, plesae let me know and I will add you to this list.
GROUP PICTURES from '66 & '67
If you want to know more about me you can visit my home page
I can only continue this page if I know there are others out there who found me who went here-so, if you did go to HAMPSHIRE LODGE in the 60s, please
Email for info and let me know if you can contribute anything, pics, memories-as I will start a MEMORY page.
A distressing bit of news came from Linda Spector who informed me that a Lowes Hotel now resides at the Hampshire Lodge site.