Escape To Isla Mujeres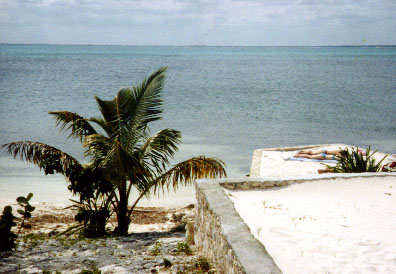 by Michael Bitterman
I wanted to escape the world. I knew that more than anything else. My business was doing worse than it ever was. My wife was suing me for everything I have, with a court trial scheduled for next month, and on top of that, I was a prisoner of my own house to try to avoid the several women in town who "burned" me. The only thing I could think of doing, besides killing myself, was escaping - escaping to where - and with what money?
My next door neighbor told me of how he spent last winter on an island in the Caribbean for $500 a month, laid - back lifestyle, nothing to do but lay in the sun and lay on the women in the sun, smoke great pot 'till the sun went down and drink tequila 'till the sun came up. In other words, he said, forget all your problems, because on Isla Mujeres, your problems are nonexistent. Nonexistent - that sounds pretty good to me - drinking tequila all day, laying in the sun, watching time fly by. Not bad - but how? I have a recording studio that hasn't done any business in the last two months - How can I do it?
I learned through a therapy called OPTION PROCESS several years ago, that you always have the option to chose what your priorities are. At this point in my life, my sole priority was to get away from the world. And Isla Mujeres seemed to be this escape. Isla Mujeres is a five mile island off Cancun in Mexico. I've never been to Mexico, nor have I had any desire, since I've only heard reports of sickness surrounding these that have returned. Still, the beaches, the sunsets, being high all day in the sun, women, tequila - an escape. I had to make it happen. I had to do this for me.
I had to escape.
I owed about $6000. on my credit cards. Yet my AMEX wasn't filled up, as they make you pay your balance, or they take it away from you. First thing I did was call the owner of the guest house and reserved the house for February. The month of February is the worst month where I live, which is Woodstock, N.Y. The whole town closes down. This was definately the month. He told me I didn't have to pay 'till I got there, but I did have to send a $100 deposit. that was fine for me. I then immediatly, called my travel agent and booked a flight on Aero Mexico for February I - returning the 29th. I was practically there. Now all I needed was some cash. Certainly between now and February, I'd get $1000 worth of work. No such luck. What was I to do? AMEX to the rescue again and the magic PIN number they give you. I withdrew $500, sold my computer, and borrowed $500. Certainly I could live on $1000 for a month in Mexico.
I had a feeling that while being in Isla, my problems wouldn't neccessarily go away, just that they'd stay in Woodstock 'till I returned. Up to this point I had access to great weed, satelite TV, good friends, my 7 year old son (who lived with his mother, and thanks to her graciousness I was "allowed" to see now and then), a great stereo system and a great house in the woods. And yet, I needed to escape. February is suicide month in Woodstock. Cabin fever at its height. Just read THE SHINING, you'll understand. All I needed was 1bag: t-shirts, bathing suits, pants, sneakers, one sweatshirt, a few dress shirts, and most important- my SONY BOX with lots of tapes. (No TV there).
Two more steps: 1) Leaving my son was no doubt the hardest thing I did - I promised to call him once a week. 2) Finding someone trustworthy to watch my house, studio and cats - and I found someone. January 31 comes and I'm off. Bus from Kingston to New York. Spent night in Hoboken with recent girlfriend - If I only knew this would have been my last sexual escapade 'till I would return.
Next morning, a mad dash to find Bain de Soleil #8 in mid-town - running to five drug stores before scoring. Cab to J.F.K. - Aero Mexico to Cancun - but flight leaves six hours later than scheduled. I learn where every magazine stand in J.F.K. is. On top of this, I realize the last ferry leaves to Isla at 7:30 and I know I'll miss it. I arrive in Cancun at 9PM but learn that there's a car ferry at 11 from Punta Sam. As I wait for the ferry, I practice my spanish at a nearby snack stand. I order papaya juice. I get a roll of toilet paper. I should have recognized this as a premonition. I'm definately a man who takes warnings to heart. My friends warnings: WARNING 1- DON'T DRINK THE WATER. Unless you want to get Montezuma's Revenge and spend the rest of your vacation on the toilet. Drink bottled water only. WARNING 2 - DON'T BRING DRUGS. One joint and you'll spend 7 years in a Mexican Pen. And you can bet they won't give you bottled water there. WARNING 3 - (and this was written in a little book called CANCUN TIPS that they hand out at the airport when you arrive) WASH YOUR HANDS BEFORE YOU EAT - the germs you pick up here are different than the ones in the states. O.K. but what about when you buy ham & cheese at a market and the lady doen't wash her hands as she takes it out for you and even if she did wash five minutes ago, surely new germs could have collected on her hands in five minutes. I won't drink the water. I'll make my own ice. No probem. I was as prepared as I was going to be. Everything was taken care of. My house and studio was being watched. Here I was. Off on the adventure of a lifetime. I print now my daily journal of my escape:

Woke up - Oh boy! Isla Mujeres. Buenos Diaz everyone. What should I do first? Stock up on some groceries. There I was in my french t-shirt & trunks off to town. Hey, there's a cab. "Town please, I mean, por favor." the cabbie shrugs? "Town, you know, the village, where the stores are. Habla usted 'Inglesh?" "No habla," he says. I motion just to drive - fed up with words. Not letting this get to me, I put my shades on.
Once in town, I stock up on lots of liquor since it's so cheap. Tequila - $4 a bottle. I'll take two. How about some rum - ooh! look. A Margarita Mix. Hey, where's the food? Everything's in cans and has chile in it. What do people eat around here? Not much sun today. Peeking in and out. Hell, I'll lay on the beach anyway. Hey, some amigos selling panama hats. I'll take one.
Into bed with a good book. Stephen King's IT. Hey, what's this bite on my legs? And hey, now on my arms? Damn, what is this?!
According to the old guy, Yussie, that caretakes this place, when asked about the water, he said, "Oh, it's fine - no problem." Well, I guess there's no harm just brushing my teeth in it. I'll still use bottled water for my ice. Ah, time for the beach. The sun should be out of those clouds soon. Yussie told me Ernie was the guy to see about pot. Ernie said some should come in tonight. Poured myself some Margarita mix but after discovering it probably tastes like the stuff I use to wash dishes, I spill it out.
DAY 3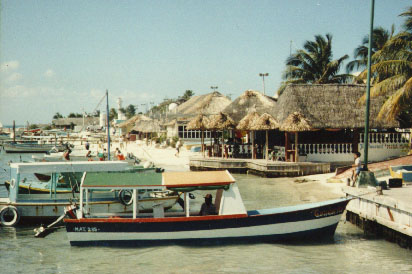 Woke up at 6AM. What's this - more clouds?!
Had breakfast out - cafe, huevos rancheros. Tried to hit the beach. Gee, the water's pretty cold but I'll bet it's a lot colder in Woodstock (ha, ha) (it has to be!) Hey, a hammock, I'll need one of those. Dinner out - some pizza place - calzones and some orange drink.
Turned in early after going to war with a new hatch of roaches. My trusty flyswatter to the rescue.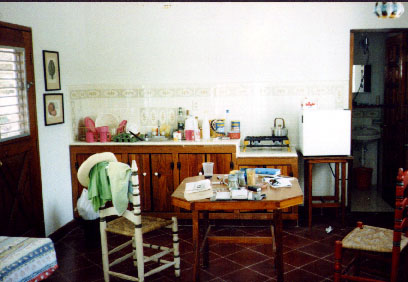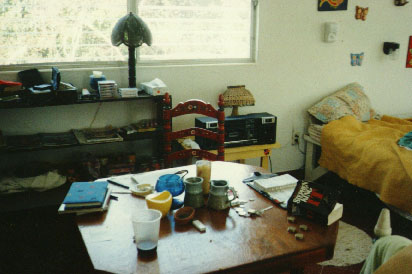 After visiting the toilet 5 times last night, I'm pretty beat. Guess I'll stay in today. Not much sun out anyway. Put some tapes on. Wish I could score some pot. (Wish I didn't have to go to the can every 15 minutes). Must be that orange drink from last night mixed with agua. (Or was it the cafe, that's made with water - isn't it?) Or maybe I didn't wash my hands before I ate - but I did. But maybe while I went from the cabaleros room to my table I got new germs. I guess I should keep my hands in my pocket after I wash and not take them out again 'till 1'm ready to eat. Yea, that's it. Where's the weed? Where's Ernie? Where's the sun?
Too sick to talk about today. Terrible wind and rain storm.
DAY 6 D i t t o
DAY 7
1 remember once reading about the sun - how it was bright and yellow and hot and how when you ate something it didn't turn into liquid 10 minutes later. Tried to call home to find out if everything's ok. Only telephone on island is in El Presidente hotel and you have to be a guest to use it. After I paid 10,000 pesos to call collect and after waiting a half - hour for call to come through, and after consuming 4 margaritas, I'm told there's no answer. How can that be with my phone machine on? I waddle home in a daze.
Want to continue on to DAY 8?