THE LONG ISLAND SOUNDS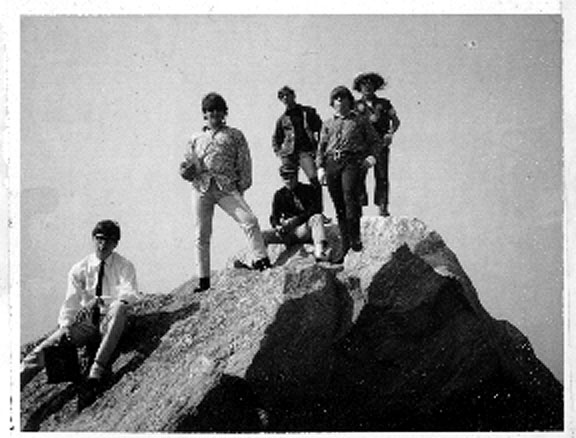 Taken on a big rock in, where else?, the Long Island Sound-Norman Stein (w/glasses & briefcase & tie) was our manager; That's me-Michael Bitterman holding a seashell, Barry Flast sitting down, Bob Hertz standing to his left; Gary Mandel in the back and Paul Koch (w/hat) at the rear.
I started THE LONG ISLAND SOUNDS in 1964. This was a rock & roll band from Great Neck, L.I. N.Y. I think it's probably fair to say that the majority of bands that erupted at this time was due mainly to a quartet of lads from Liverpool, England. I had just learned rhythm guitar just months earlier but was activly playing every day. By the end of '64 I had long hair-I believe I was the first kid at Great Neck North to have long hair. Both in and out of school I was constantly harassed because of my hair. . It became common knowledge that all musicians in Great Neck now had long hair. The Long Island Sounds in it's early incarnation featured myself on Rhythm guitar, (I believe it was a 4 pick-up Zim Gar that I got from Barrow's in Great Neck). I assumed at this age (14) 4 pickups had to be better than 3. Bob Hertz on lead guitar (I found Bob through ad ad I placed in the Great Neck Pennysaver), and Steve Howard on organ. (GET NAMES OF OTHERS) Our repartoire mainly consisted of the pop/rock songs of the day. I recall by the end of '64 or early '65 there was an average of 2 bands on every block in Great Neck Estates. We worked almost every weekend almost always at a party or an occasional dance at one of the Temples or School. It was a fun/terrific way to make money-and meet girls. Even if we only got $25 each at a private party, that went alot in those days. I saved up enough to graduate to a 3 pick-up Hagstrom-a beautiful red thing also gotten from Barrows. Where would Great Neck bands be without Barrows? The only hassle I recall was putting up with the long-hair insults and looks I would always get. I soon learned about the Village (Greenwich) and by '65 I was going down there alot to hang out as that was the ONLY place I could walk around where I wouldn't be bothered since it was totally inhabited by long-hairs.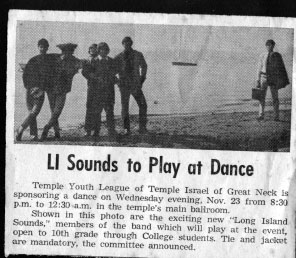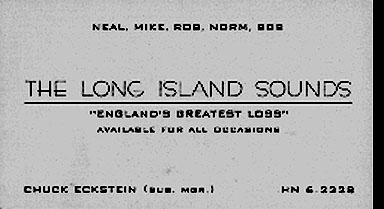 By 1966 the personnel had changed. I was still on Rhythm guitar, Bobby was still on Lead ( a Gibson 335 cherry), Barry Flast had been added as lead vocalist/organist. I met Barry at Hampshire Lodge-a teen-age camp in Jackson, New Hampshire that Bobby turned me on to. We had started a rock&roll band up there-the first and only one. David Toorchen (also from Great Neck) was in the band as well. Gary Mandel took over on Bass and Paul Koch was our new drummer. The SOUNDS really took off with this change as we not only played parties and big temple and school dances, but we were now at the country clubs playing Sweet 16s, Bar Mitzvahs, Proms and one of our favorite gigs-the ZBT frat Parties at NYU. These were late night gigs and I still recall hauling my Fender Super-Reverb Amp up this long flight of stairs with the spring reverb banging away. We were only about 16 or 17 then and the partiers were all college people and did they ever party. There was always liquor around and I recall being asked if instead of a cash payment, we can go visit Debbie behind that door and she'll take care of us.
By now I had sold my Hagstrom and bought my last electric (at the time) one I always wanted ever since I saw the Beatles. A 2 pickup cherry sun/burst Rickenbacker. Although I had been writing songs as early as '61 (when I was 11), noone wanted to hear original songs at that time. It was strictly a commercial thing that the bands at that time played the hits. I started playing my own songs at various clubs in the Village-The Gaslight was the main one I played alot. I was always put on late at night to play for whatever drunks were left there. We were competing with other bands whose repatoire was similar so we started slowly adding some of the more 'underground' type stuff that was emerging in the Village. We started to incorporate Blues Project songs, Motown, and other new stuff.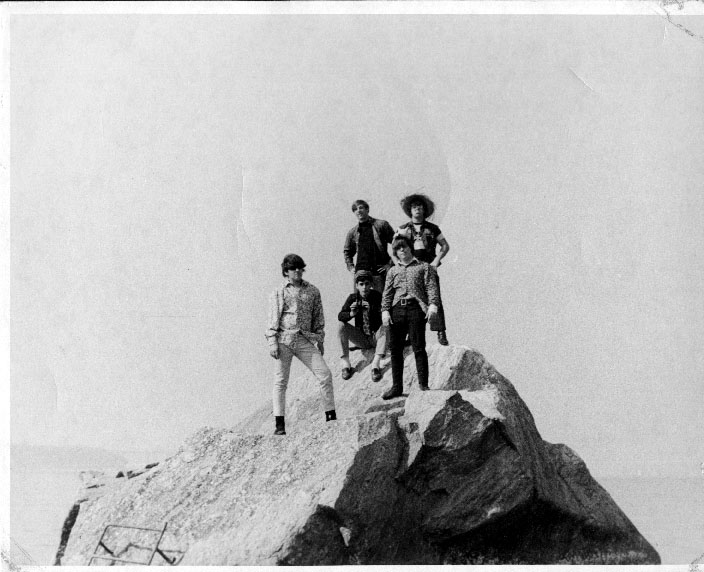 By the end of '67 (summer of love) the Sounds had disbanded. I guess we just got tired of playing the same stuff. I certainly got tired of not being able of playing my own songs and noone wanted to hear original songs still. I began playing keyboards alot and a friend, Richard Pearlman, was interested in starting a band to play his songs. I thought it might be fun to play his songs as they were pretty weird so I named the band for him-ROOM 404-I don't know where I got the name, I just made it up on the spot but people always wondered what it stood for and I was costantly asked. They all thought it was some room in a local hotel where I'd meet so and so and etc. but it was just a cool name I thought at the time. The band consisted of Richard singing his songs and playing rhythm, myself on Farfisa organ (the Farfisa was what people played if they couldn't afford or cart a B3 around. Now it's become a novelty to get that sound), Joey Berger on lead guitar, David Schwartz on Bass and Donny Hurwitz on drums. I believe we only played one gig-at Kutchers boutique on Middle Neck Road. Noone wanted an original band at their party.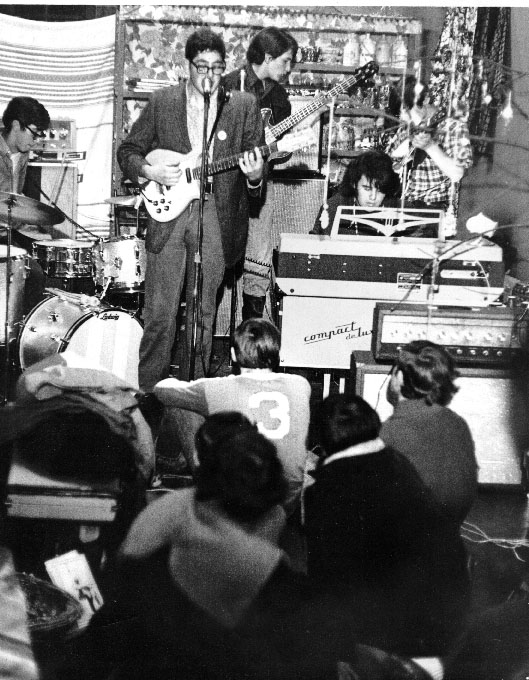 ROOM 404 at KUTCHERS BOUTIQUE in Great Neck-1967-Left-Right; Donny Hurwitz on Drums, Richard Pearlman singing lead & playing rhythm Guitar, David Schwartz on Bass, Michael Bitterman on Farfisa Organ & Joey Berger on Lead Guitar.
404 soon broke up by Richard probably due to frustration by not getting gigs although are rehearsals were pretty popular. The rest of the band stayed on and we added David Toorchen and formed a blues band called THE INFERNO.
By now I was heavy into writing songs-I had written several hundred actually and was able to sign a songwriters contract with Albert Grossman. Grossman, at that time, was manager for Bob Dylan, Peter, Paul & Mary, Janis Joplin and had just signed on the Band. This was 1969 and the Grossman office was interested in several of my song for hits by other artists. The only other writer signed to Grossman at this time was Mark (Moogy) Klingman who I was in 6th grade with. I had this song called STEPS which I had my friend Neil Rosengarden arrange and we cut a demo of it at Century Sound in NY (Brooks Arthur engineered). Neil played piano and trumpet, Sam Gordon (Albert's publisher) played drums and Herb Bushler played acoustic Bass. It was arranged for Mary Hopkin to be her next hit after THOSE WERE THE DAYS. The Grossman office was ecstatic over the song and Albert was convinced it would be a huge hit and he told me he'd buy me a house in Woodstock if were a hit. They sent an arranger over to England (Horace Ott-Little Anthony's arranger) to play it for Paul McCartney who was producing Hopkin at this time. Now I should back track just a bit to fill you in on this piece of businesss-When Brian Epstein (manager for the Beatles) died in '69, The Beatles were without a manager and went to Grossman and asked him to manage them. Albert turned them down as he had just signed on THE BAND and didn't want to inherit any of the Beatles headaches. Well, STEPS was played for McCartney and McCartney turned it down-just as Albert turned him down. Instead of STEPS, McCartney wrote a song called GOODBYE for Mary's second song-which sounds terribly close to STEPS.
Goodbye house in Woodstock. I soon realized that most of the acts being signed were singer/songwriter acts and the lone songwriter was becoming a thing of the past so I started writing songs for a band to do. I wrote a great song for THE BAND called THE ROOM YOU LEFT ME STANDING. We cut a demo again at Century Sound with Barry playing piano and singing, myself on a B3 (finally!), Sam Gordon on drums and Billy Mitchell (who had just walked into the studio) on bass. We played it for Albert who played it for Robby Robertson who said he won't do other peoples songs. Sam then contactecd Procol Harum (whose style was somewhat similar) and they said they'd perform it live but wouldn't cut it on disc. I said forget that and started a band of my own to play these new songs. It was me on organ (my Farfisa), Barry Flast on piano/vocal, Robert Kogel on guitar and Johnny Siegler on Bass. We rehearsed for months without a drummer as we couldn't find a decent one we were happy with but by then, Barry broke up the band.
Here's another quick story-I had bought a new album I found in the Village called THE GREAT WHITE WONDER-it was the first bootleg album and it was two discs of unheard Dylan. I happened to have had an appointment at the Grossman office that day so I had the album with me. When Sam Gordon saw it and asked what it was, I said something like, isn't this cool? Unheard Dylan. He said, 'Wait Here' and went up to Albert's office to show him. He came back down and told me Albert would like me to go to court and testify that I had bought this. I told him I couldn't do that because I was a big fan of Bob's and I thought his fans should be entitled to hear this stuff. He said he understood and that's no problem. My appointments were slowly cancelled and Albert didn't want to hear my new band.
I was seeking new personnel for this new band, now called MIDNIGHT and auditioned many Great Neck people before settling into the final group: Myself on piano and acoustic guitar, Mitch Weissman on lead guitar and vocal, Ferdi Serim on drums and flute, Phil Mandel on a souped up Hammond C3 he called the 'Horace', and Andy Esposito on Bass. I wrote all the songs and we cut several demos at Ultra Sonic Studio in Hempstead, NY. We got air play on WLIR-a premier FM Long Island station and got very good response and we were chosen to play a rally at CW POST for Steve Post who was being kicked off the radio. We shared the bill with David Peel and the Lower East Side and Post's lawyer, William Kunstler. We managed to catch the attention of John Hammond-major producer at Columbia who wanted to sign us. A number of things happend at this time including Mitch leaving the band to create the roll of Paul McCartney in a new show called BEATLEMANIA that was to open on Broadway.