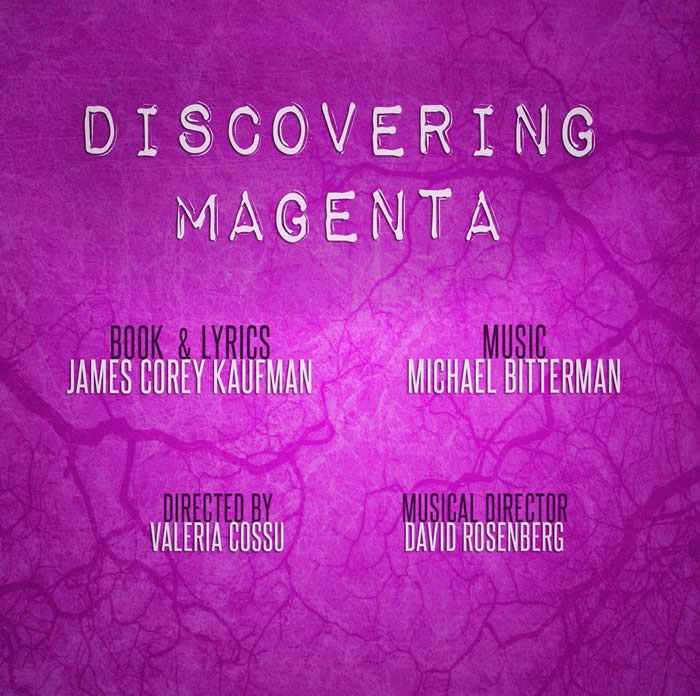 Discovering Magenta is a psychological musical. Henry, a mental health worker, is figuring out what he wants to do with his life. With guidance from charismatic Cole, lovable loser Eliot, and the eccentric Rose, he is able to help one of his patients, Katrina, break out of a catatonic state. He is soon seeing Katrina once she is released, trying to help her and slowly falling in love. Rose's sudden death and Katrina's shocking personal revelations makes Henry realize that life isn't always what it seems. The only hope of surviving may be to make your own happiness – to discover magenta.
FLASH: Discovering Magenta has been selected for the 2015 Thespis Theatre Festival at the Hudson Guild Theatre in New York Sept 1, 5th & 6th
DISCOVERING MAGENTA has been selected with 4 other new musicals to be presented at OKLAHOMA CITY UNIVERSITY-Bass School of Music on April 15, 2007 as part of their 'STRIPPED' series showcasing 30 minutes of 5 new musicals.

REVIEWS

Read the Synopsis

Read the book

Meet the Librettist m aaaaaaaaaaaa

Meet the Composer

Order the limited edition CD aaaaaaaaaaaaaaaaaaaaaaa

Meet the Characters