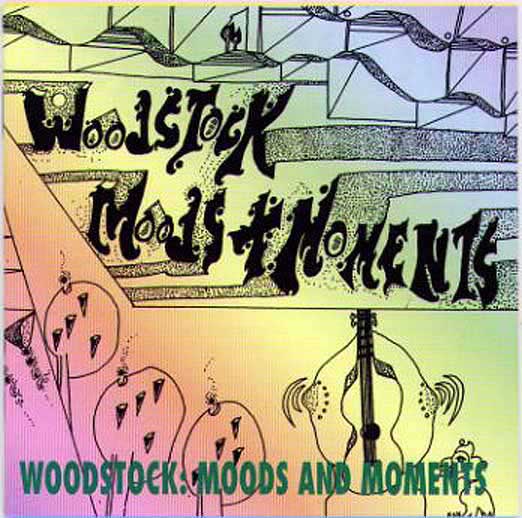 WOODSTOCK-MOODS & MOMENTS
This 1975 collectors album (LP) was a limited 1,000 pressing on PRISM records. Recorded in the living room of MIDNIGHT MODULATION this eclectic album features the best of the local musicians of Woodstock, NY from that era. From folk to blues to jazz to country to pop all original tunes by CONTRABAND, JERRY MOORE, ROLF KEMPF, MARC BLACK, DOROTHY CARTER, OTIS SMITH, DAVID MOWRY and many others.
GOLDMINE magazine has listed this album at $50 and up. I am the producer/engineer of the album and am now selling the remaining 200 sealed copies for $15pp each-DEALERS WELCOME. Send to Michael Bitterman 29 Paradise Way Saugerties, NY 12477
Here is the review by Richard Harrington of the Washington Post for the Woodstock Times 7/17/75
"Moods & Moments"
A valentine to the music industry
Whew! I can't imagine what I would have done if I hadn't liked "Woodstock-Moods & Moments", the new album from Prism Records (Mike Bitterman) that is a sampler of as yet unsigned and unrecorded area musicians. The best comment...and one that I would assume is everybody's expectation along the line is that I want to hear more. And hopefully that will apply for record producers, publishers and clubowners.
A sampler such as this is at best a difficult situation in that a single selection may not give a full, adequate impression of an artist. At the same time, too many artists go into the studio and record albums when they only have a song or two worthy of the effort. the great blues singer, Victory Spivey, has been putting out anthologies for years on the assumption that "everybody gets tired of hearing one voice on twelve compositions." In fact, the success of "Moods & Moments" may very well be in its happy eclecticism. The mood throughout the album, despite occasionally maudlin and sentimental themes, is unabashed joy and zest.
I'll just run down the selections, trying to avoid comparisons as much as possible. The album begins with the bluegrass band, CONTRABAND, delivering its rousing rendition of that music style's current warhorse "Fox on the Run" (which succeeded "Country Roads" as the new bluegrass anthem a couple of years ago.) The harmonies balance against instrumental leads that are assured and pretty straightforward.
JERRY MOORE's "Dressed All In Pink", with a gait nodding towards Richie Havens is a very fine ballad whose sparse backing is well thought out, particularly in its incorporation of the cello. Otis Smith's "Sitting on a Mountain" is an exuberant contemporary rhythm and blues rocker that builds well. If it's a little rough on the edges, well, this kind of music is intended that way, and even if endless years of singing it would smoothe it out, the directness would still come through.
The WOODSTOCK MUSIC COOPERATIVE, represented by "Bliss Is Ignorance", seems a little out of place here, if for no other reason than they are the only jazz aggregation and the only group that noticeably cuts loose. More than anyone else, they seem hampered by the limitations of the album format, but they come through with a cooking number that revives that funky spirit of the late 50s and early 60s, expressed through inviting heads and solid, occasionally adventurous (yet never inaccessible) solo work.
ROLF KEMPF's "Midnight Mambo" starts off like Jackson Browne yet quickly sidesteps comparisons by asserting its own character. The seemingly banal lyrics eventually affirm the desired simplicity of the songs message. It's as if Kempf tempts us with reservations, then challenges them with his sincerity and charm. He wins all the arguments.
Side two opens with MIKE BITTERMAN's electric piano-Arp synthesizer "Pine Lady", with an unfortunately dull trumpet figure setting the pace. Luckily, it's no more than a point of reference. While this may be the weakest cut on the album, it has a disarming warmth to it.
CYRIL EVERETT CASTER explores rock's fascination with reggae with help from many friends. Whatever is lost in authenticity is made up for by the pure spirit of the affiar. "The Light" is followed by MARC BLACK's "And the Wind", which brought back some fond memories of Tim Buckley and others who stretched the format of contemporary folk music.
DOROTHY CARTER's "Song of the Hemp" is a tremendous cut, not just inits development, but because Ms. Carter has stretched the limits of her instrument so that it often sounds like anything but a hammered dulcimer: a harp, a Peruvian santur, koto, these can all be heard, as can the Celtic presence of Alan Stivell. It doesn't mean that she is intending that, but she has brought new life to a venerable instrument.
The album closes with DAVID MOWRY's "A Dream is Just A Dream", another folk-based expedition that seems to flow out of Carter's piece in a very gentle segue. Obviously, what I've given is little more that the skeleton of "Moods & Moments". A few general comments, then. The album wears extremely well and in fact becomes more enjoyable as you become more familiar with it. By the second or third listen, you no longer worry about the frequent change of personalites.
Though most of these artists have probably made many demo tapes, some will be amazed at what they sound like on record. It's not really all that different, but they'll be wishing they had done some things diffrently. I'd like to say that even though I have heard God knows how many new albums in the last five years-maybe 35,000-I have never been less bothered by the occasional dischord or weak recording or muffled beat that can be heard. The spirit is overwhelmingly positive, which may demand a reciprocaljudgment.
This album is something of a family effort and the blemishes are incidental. Some of the music is very good and some if it is less good; none of it is less than good. Now I hope that supporters of local music buy it, and thus encourage a second effort. I hope that some record companies take notice of the talent on it; I could list a hundred albums out in the last month that are inferior. And I hope the artists on it take pride in what they have done and have the patience to not expect immediate results. It'll come.
This album is just a Valentine to the music industry.
To see volume 2 of Moods & Moments go here
NOTE: To contact Michael Bitterman- email me
To see other albums I've produced go here