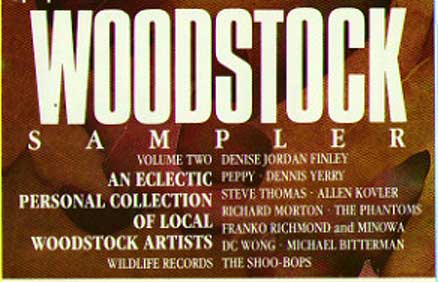 Sampled with care, color and flair
by Kelly Lockmer-Woodstock Times, June, 23,1988
Twelve years ago, Michael Bitterman released a home-recorded collection of material from local musicians. He called it Woodstock-Moods & Moments. Now, he's produced a sequel to that labor of love, the Woodstock Sampler,released through Wildlife Records in Saugerties. Eclectic does not begin to describe what happens with this assembly.
Denise Jordan Finley performs the first song, "Whenever the rain Comes," from her album, COMPANY WIFE. Her voice is full of natural beauty, seemingly iniitated by windchime glisandos, and supported by her acoustic guitar. The story of hidden sorrow is an effortless gift, and her telling shows no sign of strain or force, only sadness. It is a tender introduction, a hint of exciting surprises to come.
Peppy's mystical version of "I.aredo" easily conjures the ghost town that once was the stage for this cowboy's adventures, a picture completed by rattlesnake sounds created on guitar. Bitterman's synthesized wind adds a grave dimension filled with echoes of emptiness, and Peppy's loaded delivery evokes the nobility and the sadness of the old story. Taken from the album, PEPSTERS ON PARADE, it is a classic rendition of a classic ballad.
"Native Son" communicates emotion with studied jazz inflections. Dennis Yerry's composition begins with harsh, sax-edged chords ,and glides into his lead piano. The arrangement speaks of a strong musical purpose-Larry Smith's declarative sax taking the lead, Kim Wroble's bass striding through from beginning to end, drums by Dan Brubeck punctuating the rhythm of thought.Throughout, carefully considered spaces balance sound. It's the title track from Yerry's last album.
Steve Thomas's "Hello Stranger" seems to have gained its inspiration from an earlier age of music, when the performers took humor seriously. From the album INNOCENCE, it's the tale of a rambler moving from town to town. Perfect harmonica strains from Sredni Vollmer work well with Larry Packer's fiddle, all laid on a piano foundation.
"Tears Like Rain" is Allen Kovler's modern country lament. From Kovler's album of the same name, it features Vinnie Martucci's diverse keyboard palette and the rambling base of Steve Pinella. Amy Fradon and Leslie Ritter, the two much-heralded angels of local music, adapt, chameleon-like, to augment Kovler's country sound. Their harmonies are understated, though their presence is felt.
Richard Morton's "Ordinary Girl" has a plot of short story proportions. Characters are represented by special details: bells are cleverly used to elicit the voice of a little girl, and her father is portrayed in a distant-sounding, blue- collar accent. Shifts in musical genres indicate changes in the speaker's perspective-third person, omniscient first person. Morton performs on all instruments but drums, which are handled by Eric Parker. An amazing range of styles are employed in this one cut. Classical strings, distorted guitar, and the steadv plod of piano, like the constant motion of life, arc all used to help create a sense of the narrator, the characters, and their perspectives.
"I just Forgot" showcases the Phantoms greatest strength-their flalr for humor. They successfully recreate the atmosphere of an era long gone; it is a religious restoration of innocence and frivolity. By taking patterns from the early Sixties and composing original works, they add to the tradition from which they borrow. I.ead vocalist Nicole Wills plays the airhead with an actress's panache. Members of the group plav all instruments, except for a guitar solo by Mick Ronson. The song is taken from the group's self- named debut tape.
The next cut starts with gentle surges of pure tone, then becomes a rolling piano movement, suddenly approached by the impossible sound of "vocalise" building towers of sound to celestial heights. "Rain Forest Tapestry" is an aptly named combination of synths, piano, percussive "toys" and congas, faced with a foreign chanting, magical and playful. Franko Richmond and Minowa have created something too complex to be lumped together with much of what is called "New Age." It changes direction, twisting and turning- Minowa's vocalise is sometimes evocative of the orient, sometimes the Dark Continent. It is always mysterious.
Bitterman's own "'Theresa from Club Med," from WHOSE FANTASY IS THIS? is a comical account of forbidden love with an employee. "It's not that I don't like you, but you see, at Club Med, we never get involved with out customers." Amy and Leslie make their second appearance here,in a grass-skirt backup, easily pictured in a lounge on a cruise ship. Richard Morton provides bass and Eric Parker adds drums.
The collection is concluded by the Shoo-Bops, a group of wonderful vocalists, most of whom are trained in other professions. "So Hard to Laugh" is a cover of an obscure tune from 1953, performed seamlessly acapella.
Bitterman has personal connections to each of the pieces in the collection. He has added a detailed set of liner notes, including comments on each of the performances. "I love every one of these songs. Something for every mood; something for every moment," he writes. This project encompasses some of the best that the Woodstock area has to offer. It is also a colorful indication of the divergent array of musical attitudes we have so close at hand. ++
A WOODSTOCK SAMPLER is available currently on Audiophile Cassette for $10pp. Only 1,000 were pressed and has since become a collectors item. DEALERS WELCOME.
Send $10pp to Michael Bitterman, 29 Paradise Way, Saugerties, NY 12477
NOTE: To contact Michael Bitterman- email me